Nora Gallagher is the author of five books in the tradition of Dorothy Day and Thomas Merton: the daily living out of faith and doubt rather than abstract "belief." In her new memoir, Moonlight Sonata at the Mayo Clinic, Nora draws on her experience as a patient, and what she learned about vulnerability and resilience.
Books
Click on the titles to visit each book's page.
In her deeply affecting and profound portrait of illness and how it can dramatically alter the fabric of our lives and our faith, Nora Gallagher depicts the process of alienation she experienced when she encountered her first major crisis of health. Learning to suddenly have to ask for help, to heal, and to find her own capacity for wellness and resilience—Gallagher makes a powerful call for a more meditative, shared existence in which we can sit quietly with one another, open our hearts, listen, accept, and throw off the narrative of business and function that pervades our lives and blinds us to compassion.
Meditative, touching, and an inspiration—Accompany Me welcomes people from all walks of life and tradition to join Gallagher on her journey to rediscover her faith, her home and her comfort in a community of all of the other souls who spend their days with one another in the land of the vulnerable.
A Vintage Shorts Original. An ebook short.
"Life-changing moments take place on seemingly ordinary days when we least expect it. That is one of the many lessons writer Gallagher shares in this compelling memoir of the time she spent in what she calls the Land of Oz. Not the fantastical place that sprung from the imagination of L. Frank Baum but rather the place where the sick reside. When her doctor finds something amiss during a routine eye examination, she begins a long journey on a difficult yellow-brick road. Gallagher's memoir is about many things: illness, mortality, faith and doubt, work, busyness, navigating through the crazy quilt that is the American health-care system, and, ultimately, about regaining one's health and one's place in the universe. Most of all, it is the memoir of a writer's life ("Books were to my family's house like beds and stoves, the most basic items, necessary for survival") and the fear of losing one of the most precious tools of not only of the literary realm but of life itself: the gift of sight." —Booklist
"You can almost smell the pinion smoke and the tortillas frying in Nora Gallagher's evocative first novel...[she] effortlessly conjures the real and the imagined in language as clear as the Southwestern landscape...The novel's inevitable chase unfolds sumptuously, over red chile, blue-corn enchiladas and sudden desert snowstorms, flashing back and forth in space and time from Chicago to Europe, from the Manhattan art scene to the dusty heights of Los Alamos ... Gallagher has mined the scientific and historical record scrupulously, but she doesn't lard her narrative with science lessons or art lectures either. Her description of the manufacture of bomb molds has the spare precision of a lab notebook . . ." —The New York Times Book Review, where the book was also an Editor's Choice
Gallagher's prose is always elegant and sinuous, but it never calls attention to itself. As with Flaubert, we know ourselves to be in the presence of a shaping artistic presence, but that presence never intrudes upon the action or the characters. Changing Light accepts its characters as they are, and it provides a remarkable exposition of the social and moral world in which they operate . . . An exceptional work of fiction. —Gary R. Hall, Anglican Theological Review
"A stunning book about faith and the writing life; what I like best is that it gradually and unexpectedly turns into a love story." —Annie Dillard, author of "For the Time Being"
"With a poet's ear for language and a novelist's eye for essential detail, Gallagher offers a compelling story of her journey toward "a wholeness bought at the cost of suffering." —Publisher's Weekly
"Gracefully written and moving . . . Things Seen and Unseen starts with Nora Gallagher entering the labyrinth of her life . . . and ultimately it leads to the center of her being." —The Boston Globe
"The deep serenity that suffuses Gallagher's work, the lyrical cadences in which she writes, do not blunt the sharp edges of what she discovered in her quest for meaning. . . ." —Los Angeles Times
"Like Kathleen Norris in Amazing Grace, Gallagher is renewing the language of ultimate concerns." —San Francisco Chronicle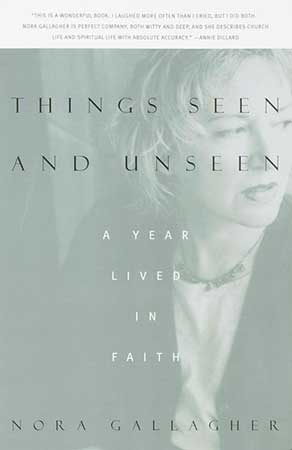 "It's so fitting that Nora Gallagher would write on the sacramental meal, because that's how I've always felt about her writing . . . it opens up a channel of grace and offers a taste of mystery, accessible to anyone, yet so full of meaning that the inside feels bigger than the outside. The Sacred Meal is a rich meal for the soul." —Brian McLaren, author/activist (brianmclaren.net)